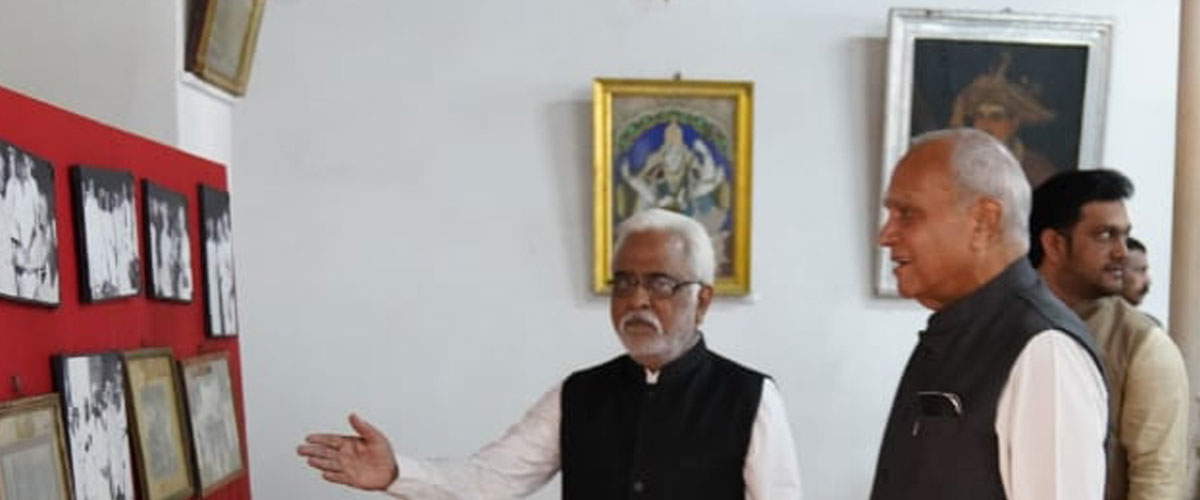 Honorable Governor Banwarilal Purohit ji visited Maharajah Serfoji II memorial hall, Sadar Mahal Palace, Thanjavur.
Maharajah Serfoji II Memorial hall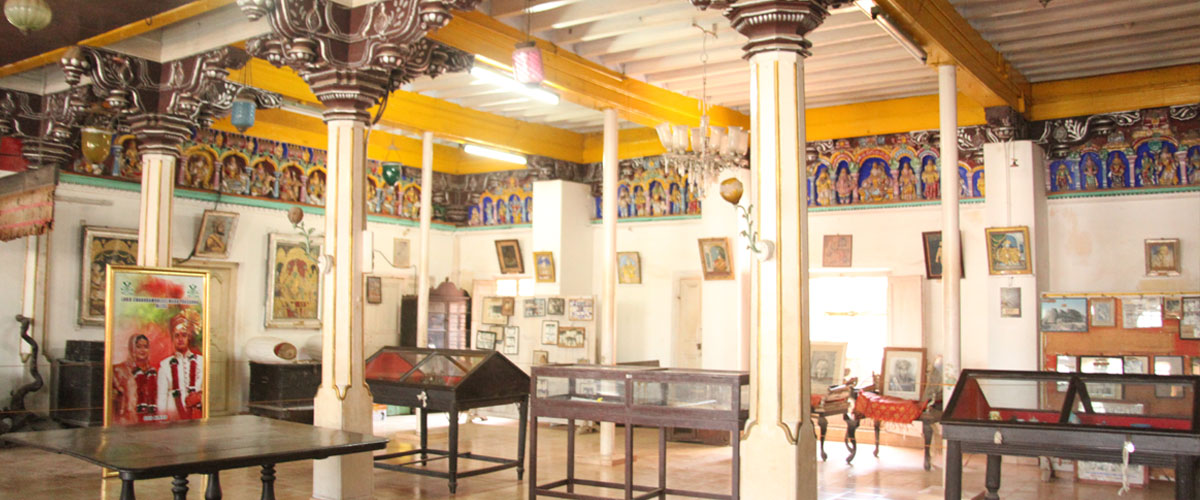 The Maratha kings have made an important contribution to the history and culture of Thanjavur, the erstwhile Cholamandalam. King Serfoji II was one among the Maratha kings who played an important role in the history and culture of Thanjavur.
The first Maratha King to set foot in Thanjavur was King Venkoji Rajah Bhosle alias Maharajah Ekoji, the half-brother of the legendary Maratha King, Chatrapati Shivaji maharajah. He took over the kingdom in 1676 A.D. After him, his descendants ruled over the kingdom till 1855 AD.

King Serfoji II was the most traveled among the 12 Maratha kings who reigned over Thanjavur. He had extensively travelled to Kasi, Benaras and Rameshwaram. A learned scholar and lover of arts, he had the habit of collecting lot of manuscripts, books, paintings and artefacts for his Palace library. In memory of his contribution, the library was named after him as Thanjavur Maharaja Serfoji's Sarasvati Mahal Library (TMSSML).
Born on 24th September 1777, in the Bhosle Royal family of Maharashtra, young Serfoji was adopted by King Tulaja II on 22-1-1787, who was king of Thanjavur. Serfoji Raje belonged to the eight generation of the Great Grandfather of Chatrapathi Shivaji - Srimant Babaji. King Serfoji completed his education and language studies under Rev. C F Schwartz. He was able to read, write and speak English, French, Italian and Latin languages apart from Tamil, Telugu, Kannada, Marathi and Sanksrit. He was crowned on 30-6-1798 A.D and ruled upto 1832 till his death. He built the Sadar Mahal, Sarjah Mahal and Kalyan Mahal in the year 1824 AD after his travels to Kasi.
The Sadar Mahal Palace is more than 190 years old and is situated north to the Krishna Vilas Tank, which is now closed. This was the residential palace of King Serfoji and his descendants. Performing arts like drama, dance, music and other art forms were performed at the Sadar Mahal Palace. Proof of this is evident from the Marathi, Modi documents in the Sarasvati mahal library.

The eighth World Tamil Conference gave a new lease of life to these Mahals, which are now preserved by the Department of Archaeology, State Government of Tamil Nadu. The arts and artefacts collected by King Serfoji are displayed in the erstwhile Residential palace of King Serfoji.This was done with the aim of showcasing the contribution of the Maratha kings to Thanjavur and to South Indian culture and literature and also to make the general public aware of their history.
The Palace Private Museum was named Maharajah Serfoji II Memorial Hall in 1997 and was Founded by Prince Srimanth Tulajendra Rajah P Bhosle, a 4th descendant of Maharajah Serfoji II and he made a Trust. The hall was restructured and repainted, it originally had some stucco work on the upper borders of the wall. On display are household articles, costumes, gold and silver ware, armouries, earthenware, manuscripts, wooden and ivory objects, various kinds of paintings like oil, water colour and so on. A small garden has been developed at the place where the Krishna Vilas Tank stood. A secret underground passage located on eastern side of the Sadar Mahal, which was in use till 1855 before being closed has also been reopened to the public.
Working Hours: 9 a.m. to 6 p.m. ( Except on National Holidays)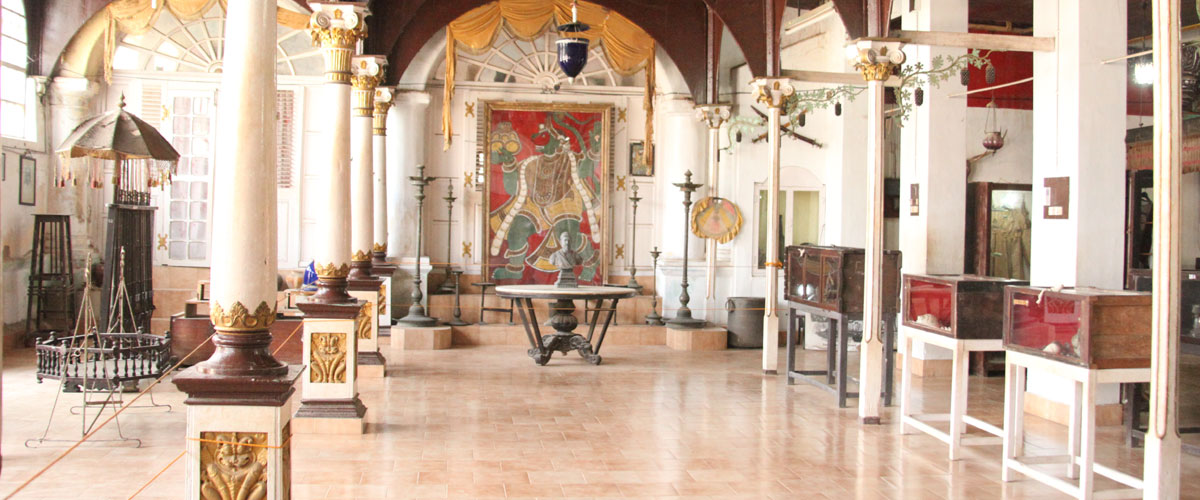 The current trustees of Maharajah Serfoji II memorial hall, Sadar Mahal Palace are the sons of H.H Prince Tulajendra Rajah P.Bhosle:
1) Prince Serfoji Rajah Bhosle [Residing at Chennai] (elder)
2) Prince Shivaji Rajah Bhosle [Red. IOB] (residing at Sadar Mahal)
3) Prince Jayaraj Rajah Bhosle (Late)
4) Prince Sambhaji Rajah Bhosle (Late)
5) Prince Veerandra Rajah Bhosle (Residing at Sadar Mahal)